At Bitvest, you can choose to be a player, or an investor. As a player, you place bets as you normally would, and all winnings are paid out by investors. As an investor, in exchange for paying out all winnings, you collect all the profits, minus a commission explained in detail below.
Playing
Plinko
To play, simply enter your bet, choose how many bits to drop, and select a prize row. The numbers on your prize row indicate how much your bet will be multiplied by if it's hit.
Players looking for more control over the odds may use the "Customize Prizes" feature to create their own personalized row.
Roulette
We follow all standard European (one-zero) Roulette rules, you may place a bet as high as the limit stated on each valid betting location. If a bet is placed above the limit, we will automatically adjust it to the limit.
Bit Spin
Simply enter your bet, and choose a prize row. You may either click on a row to preview it on the wheel and use it in the editor, or use any wheel immediately by pressing the corresponding color button.
You will win your bet multiplied by the multiplier the peg lands on.
If you're looking for more control over the odds may use the "Customize Prizes" feature to create your own customized wheel.
Slots
Enter your bet, and pick how many lines you'd like to play, and spin the slot by clicking the button corresponding to the paytable color.
You will receive the prize specified in the row multiplied by your bet based on how many of each item you hit in the row consecutively from left to right. All prize hits must start from the leftmost position in the payline.
Wild icons substitute all prizes and will always pay out their highest possible replacement.
Here are some examples of valid, and invalid lines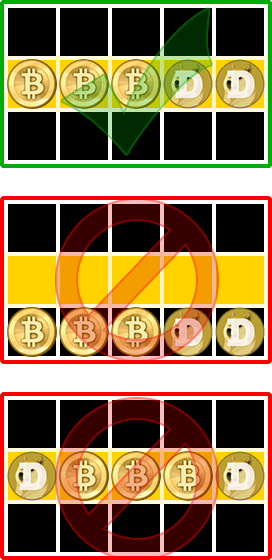 Paylines are as follows, going from left to right then the next line. The active area is in yellow 20 line.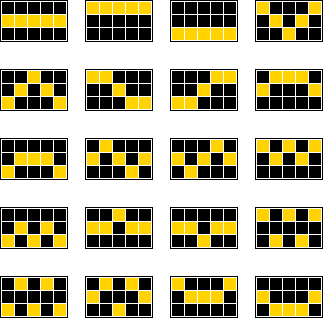 If you're looking for more control over the odds may use the "Customize Prizes" feature to create your own customized paytable.
Investing
You may invest in the site's bankroll to earn a cut of the profits. You may also invest on
margin
to have a proportionally higher risk and reward on your investment.
With the exception of token bets, all winnings and losses are funded by, or paid to investors proportional to the size of their investment.
To support Bitvest, a fee is taken from all bets leaving the remainder of, on average, 1.15% of all Plinko, 1.155% of Slot, 1.155% of Bit Spin, and 1.833% of Roulette bets paid to investors.
You may invest or divest your funds instantly at any time, and you may invest with a margin of up to 500% or 13.5% (2.7% base * 5)
max risk
.
Chat Rules
All chat, excluding PMs, must be in English
No thanking bots, spamming, or begging
No chatting with the sole intent of obtaning rain
No linking to gambling or faucet websites, except for 777Coin
No referral links, this applies to 777Coin too
Discusson of other sites is allowed, as long as the intent isn't solely to promote or advertise
The Bitvest Family
Users who are constructive, or who have made major contributions to Bitvest may become part of our family, and even help out with moderation of chat. Their ranks and names are as follows:
BitBettor, wry, xCynosure

Sub-Moderators

- 5 Users

Super Users

- 729 Users
Users may also gain a rank based on how much they've bet, those ranks are as follows:
0.01000 BTC

0.0500 BTC

0.2500 BTC

1.0000 BTC

5.0000 BTC

10.000 BTC

40.000 BTC

80.000 BTC

250.00 BTC

500.00 BTC

1000.0 BTC
0.0250 BTC

0.1000 BTC

0.5000 BTC

2.5000 BTC

7.5000 BTC

20.000 BTC

60.000 BTC

100.00 BTC

375.00 BTC

750.00 BTC

Top Bettor
Free Bitcoins
You may claim a bonus of up to 32,000,000 tokens, based on your luck and your rank at our faucet to play with every 100 seconds!